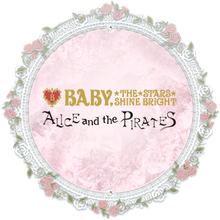 Baby, The Stars Shine Bright (ベイビーザスターズシャインブライト) is a japanese focusing on Sweet Lolita clothing. It is considered a core brand of the style which has firmly established the image of Lolita fashion, and it's also famous for providing all of the Lolita outfits in Kamikaze Girls.
Products
BTSSB is one of the few brands that still produce Old-School Lolita as part of their "classical series". It contains very nostalgic clothing that resembles some of their earliest designs of when they just started out.
Many of their releases come in pink and feature decorative lace, ruffles, and ribbons. One of their most iconic original print series is "Sugar Bouquet" with pink roses, red strawberries, and the brand logo. They often release product series with playful animal motifs which are also reflected in the matching accessories that come in various sizes, ranging from simple animal ear headdresses to plushie bags. They also have an albino bear mascot named Usakyuma which is featured in many products, and usually wears a bunny ear hood. Bags are often heart-shaped handbags, and tote bags.
Popular releases often sell out immediately and never appear in their stores. In some of their local stores, you can get a 10% student discount if you show off your student ID. Since the official online shop also provides overseas shipping, it has many fans all around the globe.
Gallery
External Links