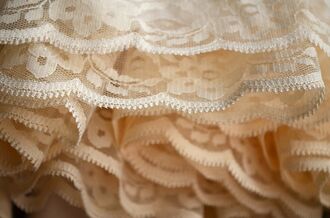 Innerwear is one of the most important parts of Lolita fashion. Unlike most parts of the outfit, this one is invisible, so many beginners tend to take it too casually. However, the wrong choice of innerwear can make even the best outfit look bad!
Here you can find a summary of how to choose the best petticoat and bloomers for your outfit.
Why You Need A Petticoat
It seems to contradict the beginning of this article, but in fact, not all types of innerwear are necessary. Petticoats are worn under the skirt for the purpose of inflation so that it spreads neatly. Therefore, the kind of petticoat you need depends on the shape of your clothes and the volume of the skirt.
If you don't feel comfortable wearing huge petticoats, Classic Lolita is recommended, as the volume is more modest, with some dress and skirt designs that you might even be able to get away with wearing no petticoat at all.
One of the main problems with choosing the right petticoat is that most generic petticoats are not suitable for the Lolita silhouette at all. Since there is a limit to the volume that can be achieved with a petticoat, it's not unusual to wear more than one. As this mostly depends on the material, it's recommended to have more than a single type of petticoat.
How To Choose A Petticoat
Depending on the brand, petticoats have different names, such as "panier" or "underskirt", with various definitions. If you want a lot of poof, organza and hard tulle are good materials to use. If you don't want it too poofy, soft tulle is better. For a more discreet, natural appearance, chiffon or polyester with frills or ruffles on the hem is recommended.
There are multiple indie brands where you can buy suitable petticoats at a reasonable price. Classical Puppets in particular is recommended for their petticoats, however, they are not very suitable for cupcake-shape outfits.
If you dislike the feeling of wearing petticoats, or don't want to create a lot of poof, but still want to wear one in order to adjust the shape, you may want to have a look at the petticoats of non-Lolita brands. For example, the type of petticoat that is popular in Mori focuses more on comfort than volume, but only works with tea-length outfits.
Another thing to consider is the proper length, and about 50cm is the required minimum for most dresses. If you are unsure, it's always safer to get a longer petticoat, as it can always be shortened in length. For those who like it a little longer, or those who are tall and have long legs, petticoats for Classic Lolita brands usually start at about 60cm.
Long petticoats with a length of almost 80cm are required for tea-length outfits that end at the calf. If you wear a regular length petticoat with a long outfit, the volume won't spread evenly and will look strange, so be careful!
Why You Need Bloomers
A lot of beginners don't plan on buying bloomers despite them being quite useful. The poof spreading out when you sit down is typical for Lolita fashion, and then people can see underneath the petticoat. That's very embarrassing, isn't it? Therefore, bloomers are not only worn to add some extra poof, but also to prevent voyeurism. There are also some variants with pockets, which can be useful, as not many Lolita dresses or skirts have them.
How To Choose Bloomers
Bloomers generally have lace on the hem and, depending on which kind of lace is used, will change the appearance of the bloomers greatly. You don't have to know the names of all lace types, but it is always a good idea to prevent choosing anything where the lace appears transparent. For some examples, torsion lace has a natural feel, and russell lace has a luxurious one. Another important point is the length. Knee-length is considered the standard. Basically, if you don't want your bloomers to be visible, they should be 35-40cm length and end above your knee. If you want to have the hem peek out from below the dress, or if the overall length of your outfit is long, it's a good idea to have a length of about 55cm, meaning they hide your knees. Longer bloomers are also a popular choice during cold weather or in the middle of winter!
Afterword
Buying innerwear can often end up costing about $100 USD, so a lot of people hesitate at first. However, once you have your innerwear game figured out, you will be even more excited and motivated to show off your Lolita outfits, while also getting praise for your effort!