Obi-Wan Finale - The Loop
Play Sound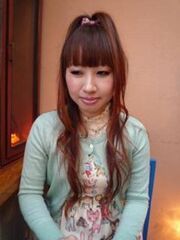 Imai Kira (今井 キラ) is a Lolita brand illustrator who was born in Hyogo prefecture (where Kobe is located) on December 17th, 1977. She currently lives in Tokyo with her husband, known as Mukuro.
She works in particular for Angelic Pretty , for whom she sometimes creates prints and illustrations for the brand's official website. Her work can also be found in the apanese magazine Gothic & Lolita Bible.
She's the most well-known illustrator in the Lolita scene in Japan as well as in America and Europe, where her works are the greatest source of inspiration for aspiring artists. Unfortunately, often you will find people trying to copy her style in a badly executed manner. His designs usually only feature one or two characters placed in the center of the artwork, usually Lolita twins or a matching Lolita and Ouji. The absence of decoration is almost recurrent in this artist, the background is often plain or includes repeated patterns of fruits, sweets, bows or flowers. Her art may seem cute at first glance - Sweet Lolitas with blushing cheeks and knees - but behind that innocent appearance hides a peaking bloomer, a piece of garter belt, and sometimes even suggestive positions.
External Links