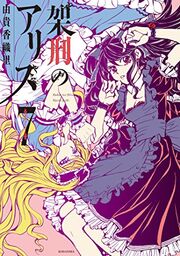 Kakei no Alice (架刑のアリス) is a japanese manga series by Kaori Yuki.
Synopsis
To members of the elite house of Kuonji, a clan whose name has incredible pull all over the world, this monthly gathering is the only long-standing (not to mention mandatory) family tradition. But one such family reunion brings with it some unexpected and horrific news for the nine Kuonji siblings, and it comes straight from the lips of their mother Olga. To become the next head of their illustrious family, the siblings must fight each other to the death!
As chaos erupts, Stella, the fourth daughter, loses it and suddenly a whole new Stella, complete with blonde hair and blue dress, comes out to play?!