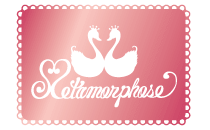 Metamorphose Temps de Fille (メタモルフォーゼタンドゥフィーユ) is a japanese brand focusing on Classic Lolita clothing, but also unusual Lolita styles.
History
The Metamorphose brand was created in 1993, and has been expanding ever since, with popular shops in Harajuku and Shinjuku. The brand is popular with Japanese girls in the Harajuku area of Tokyo and can often been seen on the Japanese lolitas on the Harajuku Bridge and on many people on Takeshita Dori.
The brand was started when japanese fashion designer Kuniko Kato split off from the major labels she had been working on. The official company was later established legally in 1997 in Kyoto, moving to Osaka in 1998 and opening its first retail location.
In 1999, new stores opened in Nagoya and Harajuku, Tokyo. More stores would open in the following years in Fukuoka, Shinjuku, Hiroshima, and Sapporo. The name has changed multiple times taking on its full form in 2000 legally and later changing legally to be just "Metamorphose".
Products
The concept of Meta is that anyone can transform into someone cute, elegant, or pretty. They produce a wide range of styles, including the lesser common Wa, Qi, and even Steam Lolita. There's also many unusual materials and prints, ranging from velvet to gobelin. If you are looking for Russel lace socks, Meta is your best bet, depending on the time of the year.
Even if some product sells out quickly, they often restock, and there's a strong impression that they want to statify as many customers as possible with a high product quantity. Even for limited edition dresses, it's not unusual for them to extend the preorder period in order to make more sales.
Gallery
External Links