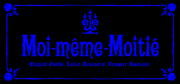 Moi-Même-Moitié (モワメームモワティエ) is a japanese brand focusing on Gothic Lolita clothing by Mana. The name derives from the french for "myself" (moi-meme) and "half" (moitie). The expression itself doesn't actually exist in french and is an amalgamation created by Mana to express his vision of what Gothic Lolita fashion is best described as.
Products
The concept of MMM is very long, but "Archiving an ancient gothic atmosphere. An elegant, mysterious, and bewitching briliance that seems to have escaped from an abadoned castle of medival Europe" and "A brand that meets the universal desire to be beautiful and noble". The clothes are mainly in black, white, and navy, with crosses, gates, and candeliers as motifs. There's also many decadent designs of shorter lenght that can be easily used for Ero Lolita.
There is an online shop and they also outsource to Kera.
Gallery
External Links