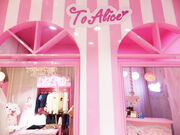 Taobao is a chinese online shopping website, headquartered in Hangzhou, and owned by Alibaba. It is handled very similar to eBay with the only difference that it's in chinese. Pretty much all chinese Lolita indie brands have their main storefront on there, and there are multiple guides on how to buy from that site.
Identifying Replicas
If the item has the word "复刻" in it, it is a replica.
If the item has any of these words in the title, it may be a replica. However, it may also mean the item is largely inspired by a brand item: META, BABY, VM, MM*, AP, AATP, MMM, MOITIE, VW, ETC, JM, IW. MM can also refer to "lady" and may not always mean "Mary Magdalene." If the item name has any other brand name in it, you should search for that brand's stock photos to see if it is a replica.
If the stock photo is stolen, it definitely a replica.
If you can find the same dress released by a reputable brand on HelloLace or Lolibrary, it is a replica.
When in doubt, you can post a link to the item somewhere and ask others.
Retailers
Nowadays, there are many places that sell products from various Taobao stores. While they might not flat out scam you, here are few examples of sites you should stay away from in regards to buying Lolita fashion:
Scalpers - They usually boast of good communication and service, at the cost of a high markup. They usually don't state the brands of the products to prevent you from finding out the much lower original price.

Wish - As they advertise all over the place, it's not hard to know about the site and the negative reviews about them as they often go viral for how hilariously off the received products are.

BuyChina - They market themselves as an "official English version of Taobao" when they are not. They are just an SS with very high fees in exchange for a sophisticated web interface. They were also spamming certain web communities with their advertisements Milanoo-style. Recently, they tried to cheat people into thinking that they owe BuyChina payments by creating emails that falsely claim "Thank you, your order has been placed". These people have never placed orders with them. Beware!
Useful Links