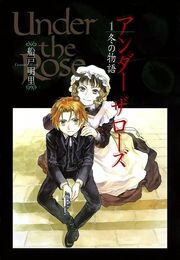 Under the Rose (アンダーザローズ) is a japanese one-shot manga by Akari Funato.
Synopsis
Under the Rose contains two stories:
Winter's Tale (Fuyu no Monogatari): In the late 19th century England, Grace King was the daughter of a declined Marquis and also the mistress of Count Arthur Roland. After her mysterious death, her sons Linus and Lawrence were taken under custody of their father Earl Roland, who has a sick wife Anna and other children. Linus deeply suspects that the Roland family was involved in the death of his mother and thus begins his lonely investigation.
Spring's Paean (Haru no Sanka): Rachel Brennan was hired by the Roland family as the governess for the children. The children, except the second son William, gradually began to like her. Will William also open up to Rachel too with her efforts?